Boys, I have another bad news for you. 🙂 New romantic comedy with GOT Emilia Clarke in the main role is coming to cinemas this fall. The movie is brought by Universal Pictures, so it will be available everywhere, that's sure and it was filmed in London, England, UK. I'm suggesting to you to find some good action movie which is coming out about that time, just to have leverage in negotiations. 🙂
Christmas is coming to London and Kate is in a bad streak with boyfriends. It looks that her every move is a bad decision and she has to accept a job as Santa's elf in a department store. Then, Tom comes to her life and it takes a new turn, but suddenly, everything looks too good to be true…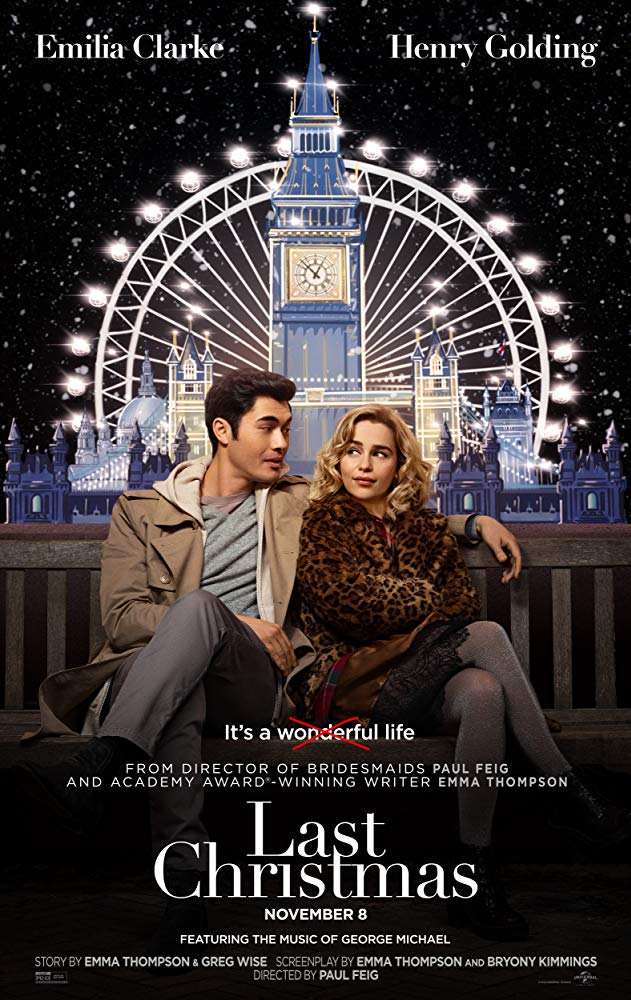 image by imdb.com
The director of the movie is Primetime Emmy nominee Paul Feig, a well-known actor, producer, and director known for movies like The Heat (2013), Spy (2015) or old TV Series Freaks and Geeks (1999-2000). The screenplay is written by Academy Award winner Emma Thompson, known as a writer of awesome movies like Bridget Jones's Baby (2016) or Sense and Sensibility (1995). She had help from Greg Wise and Bryony Kimmings.
In the main roles are: four-time Primetime Emmy nominee Emilia Clarke (Game of Thrones (2011-2019), Terminator Genisys (2015), Me Before You (2016)), Henry Golding (Crazy Rich Asians (2018), A Simple Favor (2018)), two-times Oscar winner Emma Thompson (Sense and Sensibility (1995), Saving Mr. Banks (2013), Love Actually (2003)), BAFTA Film Award nominee Michelle Yeoh (Crouching Tiger, Hidden Dragon (2000), Tomorrow Never Dies (1997), Kung Fu Panda 2 (2011)), Ingrid Oliver (Angus, Thongs and Perfect Snogging (2008), Doctor Who (2013-2015), The Wrong Door (2008)) and others.
Take a look at the official trailer for Last Christmas movie:
The movie Last Christmas is coming to cinemas in November 2019.
You can find more details about the movie at https://www.imdb.com/title/tt8623904/