How did I miss this? Lol… I'm a big fan of Between Two Ferns YouTube show for a long time ago and I was wondering where is Zach Galifianakis and why he doesn't do it anymore. The last "episode" was about a year ago and he started with the show almost 10 years ago. It was a time to make a full movie and it comes to Netflix at last in a few days!
Zach Galifianakis didn't start very well his celebrity interviews and he decided to go on a road trip with his crew to restore his "good" reputation… Of course, everything that might go wrong went wrong…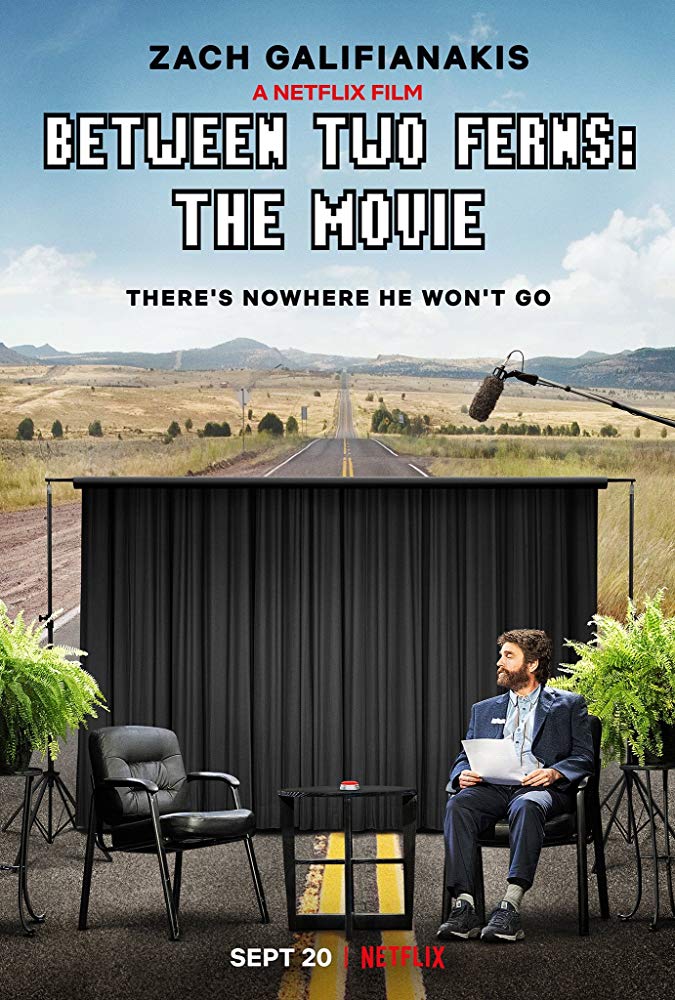 image by imdb.com
The director of the movie is double Primetime winner Scott Aukerman, a well-known director and writer of movies like Youtube show Between Two Ferns with Zach Galifianakis (2008-2018), but also some cult movies like Austin Powers in Goldmember (2002) and Run Ronnie Run (2002). He is also writing this film along with Zach Galifianakis.
In the main role is of course Zach Galifianakis (Hangover movies, Birdman or (The Unexpected Virtue of Ignorance) (2014), Due Date (2010)), but he has invited some really great actors in the movie like Academy Award winner Matthew Mcconaughey (Dallas Buyers Club (2013), Magic Mike (2012)), Golden Globe nominee Will Ferrell (Talladega Nights: The Ballad of Ricky Bobby (2006), Anchorman: The Legend of Ron Burgundy (2004)), Golden Globe winner Peter Dinklage (TV Series Game of Thrones (2011-2019), The Station Agent (2003)), Oscar nominee Benedict Cumberbatch (The Imitation Game (2014), Star Trek Into Darkness (2013)), Primetime Emmy winner Tiffany Haddish (Girls Trip (2017), Keanu (2016)), Oscar winner Brie Larson (Room (2015), Captain Marvel (2019)), Keanu Reeves (The Matrix (1999), Speed (1994)), Jon Hamm, David Letterman, Jason Schwartzman, Adam Scott and many others.
Take a look at the official trailer for Between Two Ferns: The Movie movie:
The movie Between Two Ferns: The Movie will come to Netflix on September 20th.
You can find more details about the movie at https://www.imdb.com/title/tt9398640/
Also, check the Funny Or Die Youtube channel for previous short films Between Two Ferns at https://www.youtube.com/user/FunnyorDie