The Mardan Palace Hotel one of the most luxurious hotels in the Mediterranean region, was opened in the popular Turkish resort town of Antalya costing nearly 1.5 billion USD.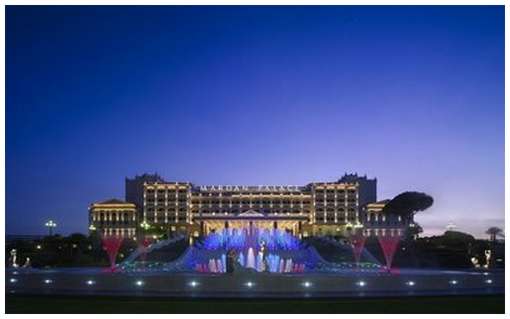 The most expensive hotels in Europe Mardan Palace includes a total 560 rooms, cost from $ 475 up to $ 19,000 per night. The most expensive rooms have a pool, a concert grand piano, huge TV and a toilet with a remote control.
The hotel sports a five acre pool that guests can take a gondola ride across, which takes a full 30 minutes. The bathrooms have gold-plated mirrors on the floor and the spa boasts a room full of real snow that guests can roll around in immediately after exiting the sauna. The absurd undertaking is the brainchild of Russian billionaire Telman Ismailov, who ploughed at least one of his billions into this monument to ostentation.
Champagne costs 25 pounds a glass, toilets are remote-controlled, guests select linen and pillow firmness from a 'pillow menu' alongside each bed and the private beach has been created from 9,000 tons of the silkiest white sand imported from Egypt.