What you get when you bring Captain America, James Bond, two Golden Globe winners, and Oscar nominee in a movie directed by the man who did one of Star Wars films? Well, you get something like this that you are reading and watching the awesome trailer. If you like Agatha Christie books (or movies based on her books), this one will be a perfect fit for you. I know that I will buy tickets for the first row. 🙂
On his 85th birthday, famous crime novelist Harlan Thrombey is found dead under very strange circumstances and Detective Benoit Blanc is here to investigate the case. BTW, he has also got that case under mysterious circumstances. All family members at the birthday party are suspects and all of them have a motive for the murder. Strong and eccentric personalities of the family members clash with investigators…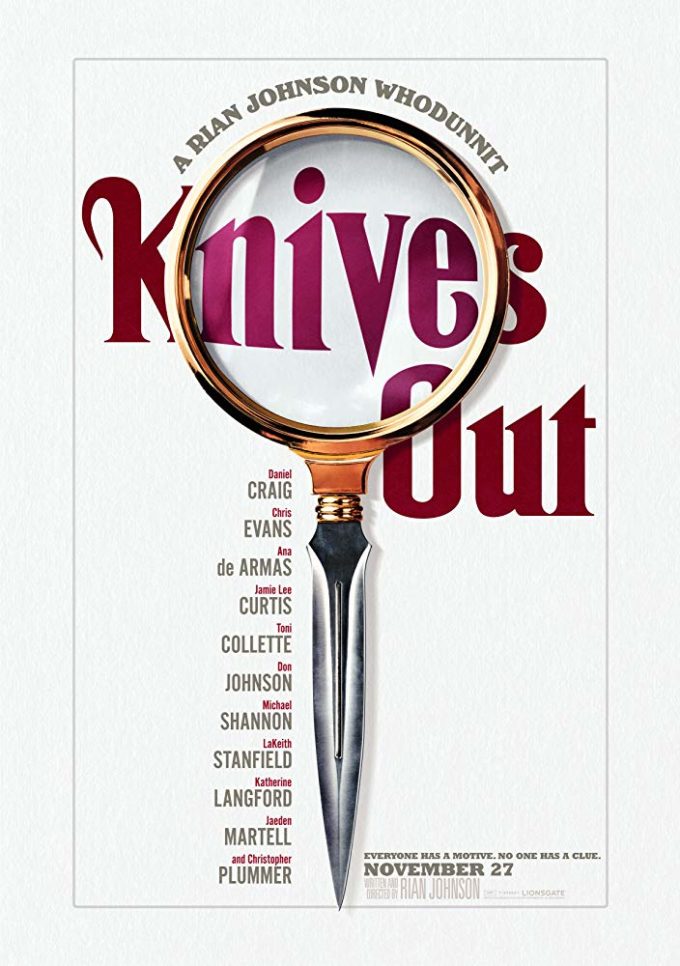 image by imdb.com
Director and writer of the movie is Rian Johnson, well-known for blockbusters as Star Wars: The Last Jedi (2017) or Looper (2012).
Cast for this movie is really impressive with names like Daniel Craig (James Bond franchise), Chris Evans (Captain America from Avengers franchise), Ana De Armas (Blade Runner 2049 (2017), War Dogs (2016), Knock Knock (2015)), double Golden Globe winner Jamie Lee Curtis (True Lies (1994), Halloween (2018), A Fish Called Wanda (1988)), Academy Award nominee Toni Collette (Little Miss Sunshine (2006), Hereditary (2018), About a Boy (2002)), Golden Globe winner Don Johnson (Miami Vice (1984–1990), Django Unchained (2012), Machete (2010)), Oscar Award nominee Michael Shannon (Midnight Special (2016), The Shape of Water (2017), Take Shelter (2011)) and other great actors.
Take a look at the official trailer for Knives Out:
The movie Knives Out comes to the cinema on November 27.
You can find more details about the movie at https://www.imdb.com/title/tt8946378/