Well, it looks that the time for presenting Christmas movies is ON. We have just yesterday presented a new trailer for Jumanji, and today we have another Christmas movie trailer. This time it is the second trailer for 20th Century Fox animation movie Spies in Disguise, with Will Smith and Tom Holland.
Like James Bond's right hand, Mr. Q (Quartermaster), Walter Beckett (Tom Holland) is the scientist of super spy Lance Sterling (Will Smith), and as it always happens, they have totally opposite personalities. One small accident in the lab and Lance gets converted into a bird. Under new circumstances, they have to work as a team in a mission impossible…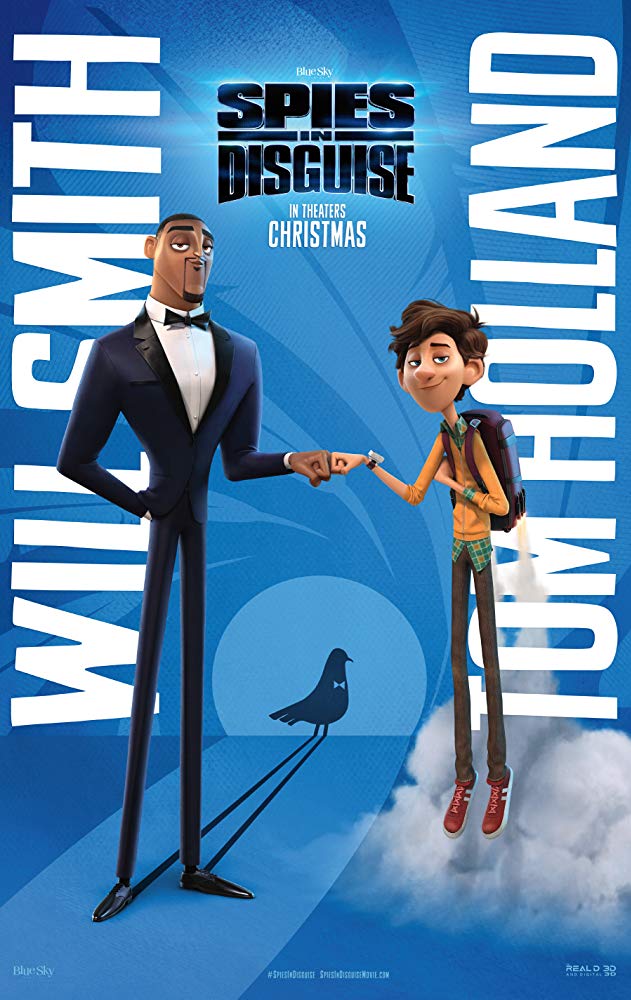 image by imdb.com
The movie is directed by Troy Quane (worked in art department of movies Enchanted (2007), Ice Age: Collision Course (2016), Osmosis Jones (2001)) and Nick Bruno (Rio (2011), The Peanuts Movie (2015), Epic (2013)) and it will be their debut as a directors in the big screen movie. The story is written by Brad Copeland, known for Ferdinand (2017) and Wild Hogs (2007), but also as producer and writer in popular TV series My Name Is Earl (2005-2007).
Voices in the animated movie are borrowed from Will Smith (Men in Black (1997), I Am Legend (2007), Wild Wild West (1999)), Tom Holland (Spider-Man movies, The Impossible (2012)), Karen Gillan (TV series Selfie (2014), Guardians of the Galaxy (2014), Not Another Happy Ending (2013)), Ben Mendelsohn (Rogue One: A Star Wars Story (2016), Animal Kingdom (2010), The Dark Knight Rises (2012)), Rashida Jones (TV series Parks and Recreation (2009–2015), Celeste & Jesse Forever (2012), The Social Network (2010)), DJ Khaled and others…
Take a look at the second official trailer for Spies in Disguise:
The movie Spies in Disguise comes to the cinema this Christmas.
You can find more details about the movie at https://www.imdb.com/title/tt5814534