If you still believe in honest politicians and other modern fairytales, then take a look at the official trailer for the movie Dark Water, and in November the whole movie. Inspired on shocking true events, and represents a never-ending fight between the world's largest corporations and the small man. Ones are searching for profit and don't fear anything, even when people's lives are involved.
A corporate defense attorney switches sides and takes a case against his previous employer. An environmental lawsuit takes place, and as time passes more and more dirty things come out about a long history of pollution a whole city near the chemical factory…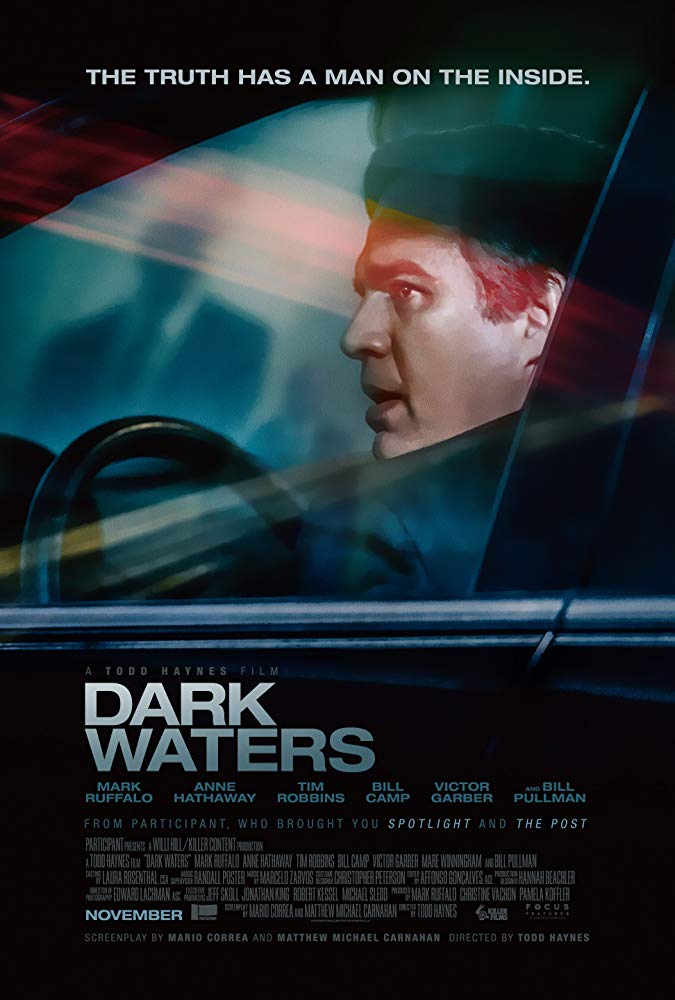 image by imdb.com
The director of the movie is Academy Award nominee Todd Haynes, well-known director by movies as Far from Heaven (2002), I'm Not There (2007) or Carol from 2015, with Oscar winner Cate Blanchett in the main role. The film Dark Waters is inspired by true events from the magazine article by Nathaniel Rich, and the screenplay is written by Mario Correa and Matthew Michael Carnahan.
In the main roles are triple Academy Award nominee Mark Ruffalo (The Kids Are All Right (2010), The Avengers (2012), Spotlight (2015)), Academy Award winner Anne Hathaway (Les Misérables (2012), The Dark Knight Rises (2012), Rachel Getting Married (2008)), another Oscar winner Tim Robbins (Mystic River (2003), The Shawshank Redemption (1994), The Player (1992)), Primetime Emmy nominee Bill Camp (12 Years a Slave (2013), Love & Mercy (2014)), 6-time Emmy nominee Victor Garber (Argo (2012), Titanic (1997), TV Series Alias (2001-2006)), Oscar nominee Mare Winningham (Turner & Hooch (1989), Philomena (2013)) and others.
Take a look at the official trailer for Dark Waters movie:
The movie Dark Waters will come to the cinemas on November 22.
You can find more details about the film at https://www.imdb.com/title/tt9071322/
Check the official website of the movie at https://www.Darkwatersmovie.com