Not so known director and not so known producers, but this horror movie looks descent after looking at the newest trailer. The film is named Daniel Isn't Real and will be premiered in theaters at the beginning of December. In the main role, we will see the son of Arnold Schwarzenegger, Patrick and a few new young faces. The story of the movie is based on a novel by Brian DeLeeuw.
After a series of violent family traumas, young college freshman Luke, at his psychologist's advice, resurrects his childhood imaginary friend Daniel to help him cope with problems. In the beginning, the relation is going great and it helps Luke to be more liberated, but slowly, he starts to lose his mind…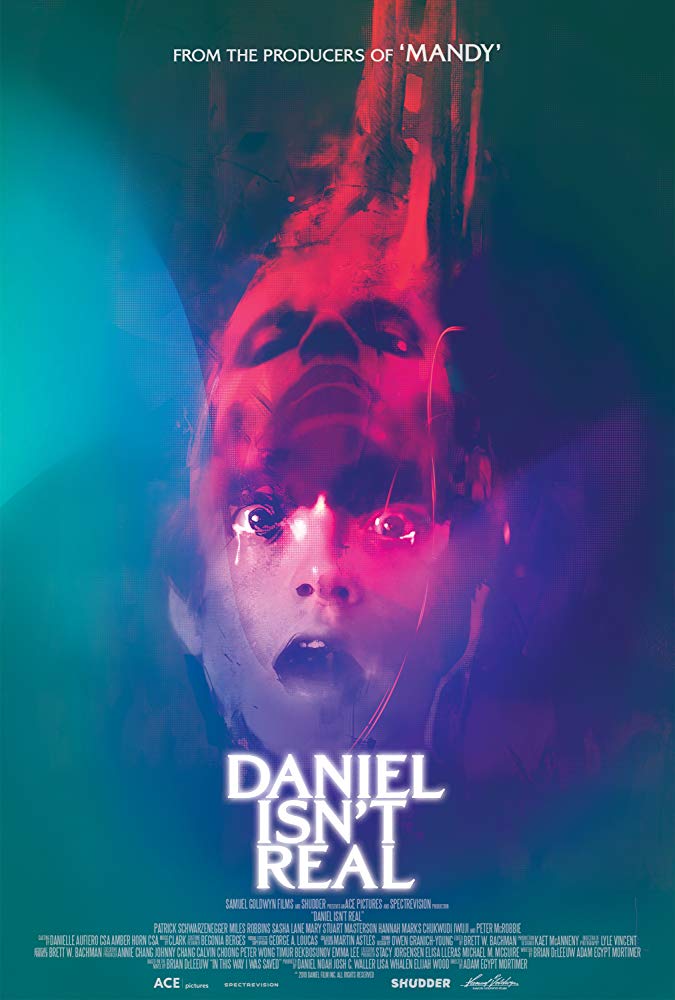 image by imdb.com
The director of the movie is Adam Egypt Mortimer, known by horror movie Some Kind of Hate (2015) and a segment from the movie Holidays (2016). He was also a writer of the movie alongside Brian DeLeeuw (Curvature (2017), Paradise Hills (2019), The Laughing Man (2016)) who has written the novel.
In the main roles are Patrick Schwarzenegger (Scouts Guide to the Zombie Apocalypse (2015), The Benchwarmers (2006), Grown Ups 2 (2013)), Miles Robbins (Blockers (2018), Halloween (2018), TV Series The X-Files (2018)), Sasha Lane (American Honey (2016), Hearts Beat Loud (2018)), Mary Stuart Masterson (Benny & Joon (1993), Some Kind of Wonderful (1987), Fried Green Tomatoes (1991)), Hannah Marks (TV Series Dirk Gently's Holistic Detective Agency (2016–2017), Anesthesia (2015), After Everything (2018)), Chukwudi Iwuji (TV Series Designated Survivor (2019), When They See Us (2019), John Wick: Chapter 2 (2017)) and others.
Take a look at the official trailer for the movie Daniel Isn't Real:
The movie Daniel Isn't Real will come to the theaters on December 6.
Movie URL: https://www.themoviedb.org/movie/537788-daniel-isn-t-real
Critic: AA