If one of the producers of the movie is the living legend of horror Guillermo del Toro and one of the main characters is a child, is it enough info to call your attention? 🙂 The film Antlers still doesn't have a release date, but the teaser trailer is out, and it looks awesome!
In Antlers, the story follows the Oregon teacher and her brother, the local sheriff, who slowly discovering a dangerous secret of one of her young students. The consequences of that discovery are very disturbing and unusual…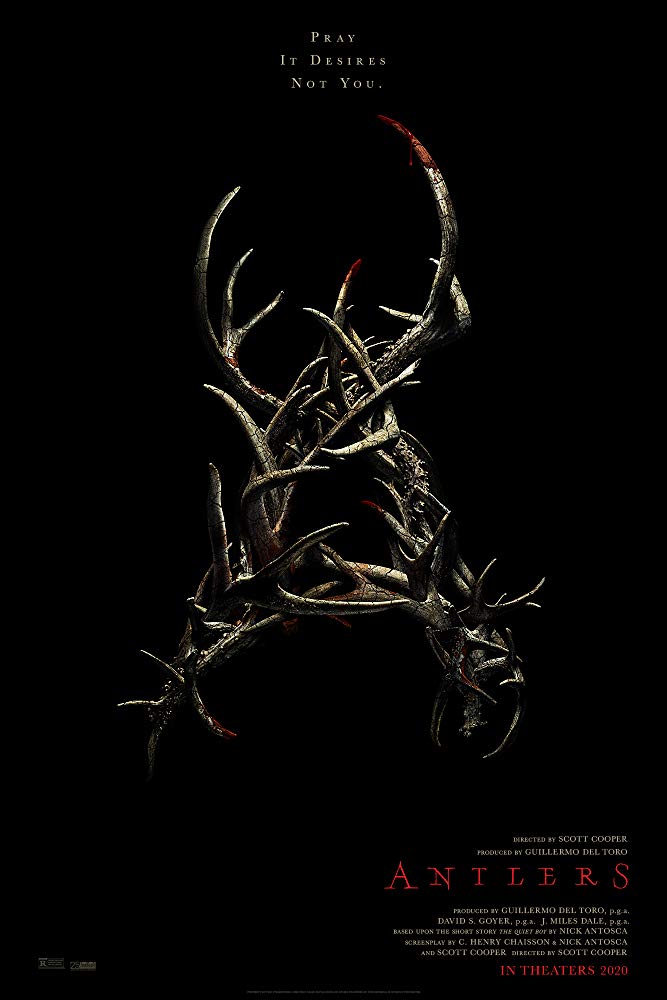 image by imdb.com
The movie is directed by Scott Cooper, a well-known for movies like Crazy Heart (2009), Hostiles (2017) or Black Mass with Johnny Depp in the main role from 2015. The movie is base on a short story "The Quiet Boy" written by Nick Antosca (TV Series The Act (2019), Channel Zero (2016–2018), Hannibal (2015)), who was also prepared the screenplay together with C. Henry Chaisson and Scott Cooper.
In the main roles are Golden Globe winner Keri Russell (Waitress (2007), Mission: Impossible III (2006), Dawn of the Planet of the Apes (2014)), Primetime Emmy nominee Jesse Plemons (Game Night (2018), Battleship (2012), Black Mass (2015)), Jeremy T. Thomas (TV Series Lore (2017), The Righteous Gemstones (2019)), Academy Award nominee Graham Greene (The Green Mile (1999), Wind River (2017), Dances with Wolves (1990)), Scott Haze (Venom (2018), Child of God (2013), Thank You for Your Service (2017)) and others.
Take a look at the official teaser trailer for Antlers movie:
The movie Antlers producers didn't give us the official release date for the premiere.
You can find more details about the movie at https://www.imdb.com/title/tt7740510