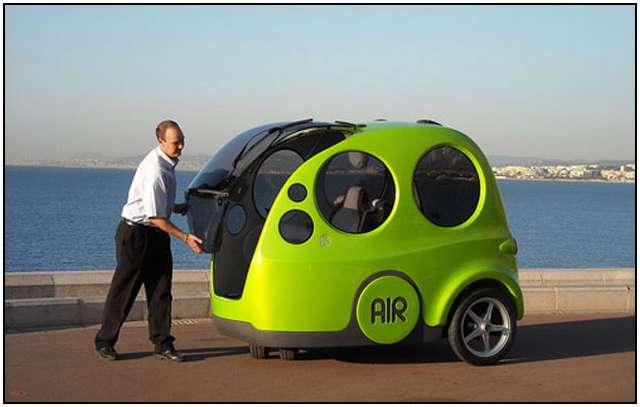 What would you say if I told you that your next car could run on air instead of gasoline, and that it would produce zero pollution? The MDI AIRpod might just bring that promise to reality when it hits the streets later this year.
The subcompact AIRpod runs on compressed air instead of traditional automotive fuels. A set of carbon-fiber tanks sit underneath the passenger compartment, loaded up with 2900psi of compressed air. The tanks power a tiny engine capable of cranking out a whopping 5.4 horsepower and 11-foot-pounds of torque.
It takes 2 minutes to fill up the tanks, and a single occupant should be able to go somewhere around 90 to 125 miles on a full set of tanks. And with air costing just €1 (appx. $1.40 USD) for a fill-up, fuel costs are pretty much a non-issue. Of course, that all assumes you can find a place to fill up the tanks.
MDI says the production version will transport up to 3 adults and 1 child, with a single front-facing driver's seat, and a rear-facing bench for the other occupants. This tiny green car looks awfully cramped – not to mention a bit dangerous for the passengers, but maybe that's just me.
Four-wheeled version is currently in development. It will be manufactured and sold by Indian company Tata Motors. Expected price is $10,000.