Collection of creative concept cell phone designs, created by very talented designers from around the world.
Cell Phone Concept created by Leaf
Source: here
That green bandwagon is speeding down the global highway at break neck speeds and corporations are rushing to hop on. That's the good news… the other good news is that electronics giant Siemens is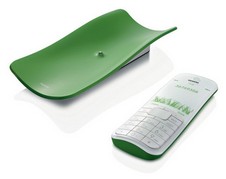 looking for ways to make bold and beautiful green statements with these cordless telephone designs. Siemens Home and Office Communication division commissioned design firm Formwelt with guidance from Hans-Henning Brabänder to dream up these ultimate green phones for the home or office. The "Gigaset Eco Visions" "Leaf" and "Solar" are made of recyclable raw materials, such as eco-plastic and liquid wood. Sun-light is used as a natural energy source for handsets. An eco-index provides the "nutritional facts" regarding the environmental-friendliness of each phone. This includes the percentage of organic materials and number of components used at disassembly, the energy consumption and emissions in use and production as well as the how recyclable each product is. So much more relevant info on all the ways this design is innovative below.
Leaf has a unique natural design reminiscent of a leaf in spring. The eco plastics provide sensational haptics and substantial convenience. The invisible OLED display is embedded in a translucent lens encasement, giving the phone a futuristic touch.
Cell Phone Concept created by Ply
Source: here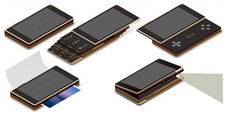 Ply's name is taken from the design of multilayered plywood, and each layer has its own very distinct
function, ranging from a photo printer to game controller to mini digital projector.
This is of course a concept only, but in this day and age does it seem out of reach? With all the amazing games available on Japanese handsets, the controller layer is a definite plus, though it would be even better to have a wireless version to use while using the built in projector!
Cell Phone Concept created by Sky
Source: here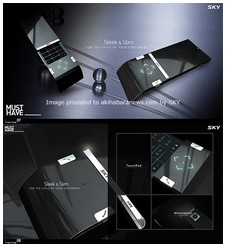 The Korean Sky lets us take a look at their "concept phone" which is wonderful with its luminous blue touchpad.
From concept to reality the road can be long but maybe what you see here is the phone of the future !
Cell Phone Concept created by The Scroll
Source: here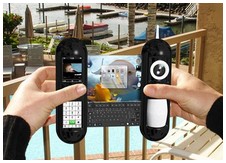 This is a new cell phone concept coming from 13 Tech Design, where the working team wants to demonstrate how it is possible to use a slider-style phone, full-featured with multimedia player, Wi-Fi connectivity, built-in camera/camcorder, computer functions, Bluetooth and router touch-sensitive inputs can use the e-paper display to deliver high-end functions.
The Scroll would use Windows XP or Vista as the operating system pre-installed and would allow the user to capture 10MP pictures or use the 1080p camcorder function.
People would be able to watch videos on a large screen or listen to their favorite songs with powerful sound provided by the built-in 6 Watt speaker.
Cell Phone Concept created by LINC "Green"
Source: here
LINC is a typical touch screen smart phone with all the connectivity and features you come to expect. Its got a cell phone, a media player, a web browser, GPS, downloadable content, Bluetooth, wifi, the latest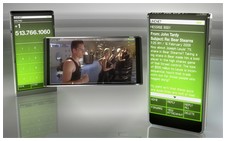 3G network. But here's the catch. LINC is leased to the user as a service, not a product. The user holds on to the device for about a year, and when the next generation of hardware comes along, the user receives a new LINC in the mail. The LINCs inform the user of their hardware upgrade, wirelessly transfer the digital account, and before being shipped back to the manufacturer, LINC informs the user of the next part of its journey.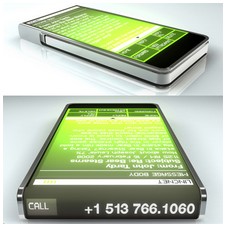 LINC is to be shipped back to a regional manufacturing facility. The device contains valuable materials like aluminum, glass, and electronic components that the producer can harvest for re-use. Typically, mobile phones contain hazardous waste that goes into a landfill or are left in a desk drawer to sit in.
LINC is designed for automated disassembly. A directed radiant heat beam targets its internal memory metal latch, releasing the assembly. In one step, LINC automatically disassembles into its few simple components, glass, aluminum and its circuit flex. The glass and aluminum, not containing any paints or adhesives, are easily recycled to pure grade materials for immediate reuse. The remaining flexible circuit contains all the electronics necessary for the entire device. It's full of hazardous materials, but it has been safely recovered for proper disposal. Many of the chip sets can easily be pulled for reuse. Components like the graphics card are out dated for LINC, but can be used in devices like portable gaming systems.
In one step, LINC automatically disassembles into its few simple components, glass, aluminum and its circuit flex.
Cell Phone Concept created by Bend
Source: here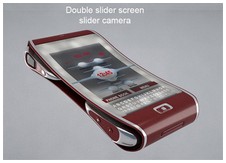 Why bother with one screen when you can have two for probably double the price? Designer Andy Kurovets presents his "Bend Mobile" concept. He thinks turning on a device and having it grow to nearly double its size will really be attractive to some people. He may be right but where is the proof? Oh right, he is also including a high capacity digital camera that also pops out to larger than expected proportions. All that and it's curved, for easy sliding in and out of your pants. Niiice.
Cell Phone Concept by created Nokia 888
Source: here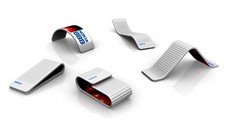 In a few years, we may all be wearing our phones on our wrists, not around our ears. That's the promise of the Nokia 888 communicator concept phone, which is gaining recognition in global design and communications industry journals.
Created by Tamer Nakisci, a Turkish student, for the Nokia Benelux Open Design Awards, this phone offers a malleable interface that can be bent, twisted and wrapped into different shapes like a wristband. Wow! That's even cooler than my parent's old 8-track cassette player. By the way, Mr. Nakisci's favorite song is rumored to be "Twist and Shout."
This phone uses liquid batteries, provides speech recognition, a flexible touchscreen and touch-sensitive body cover. Plus, its simple programmable body mechanism can change forms for different situations.