Amazing Paper Craft Castle On the Ocean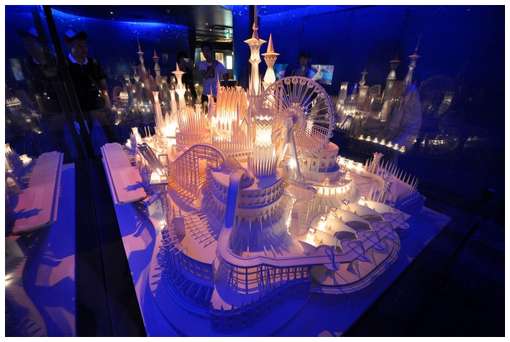 I had the immense opportunity to see this wonderful paper craft art installation by a genius of the name of Wataru Itou, a young student of a major art university here in Tokyo. The installation is hand made over four years of hard work, complete with electrical lights and a moving train, all made of paper! Clearly, this man must have created one of the most stunning examples of Paper Craft in the world? At the exhibition you will also have the chance to see a video showing Mr. Itou at work in his studio, cutting and folding piece by piece. The exhibition is called Umi no Ue no Oshiro (A Castle On the Ocean ).
It is exhibited at Uminohotaru, a place which in itself is a major attraction: a service area in the middle of the ocean, right between Tokyo City and Chiba Prefecture. If you haven't checked it out yet, use Google Earth for a close up of what is probably the weirdest parking lot in the world. Well, it's more than a parking lot actually, but I am saving a more detailed description along with photos for another post.
For now, enjoy this wonderful work of art!