The Worlds Most Beautiful Castles
There was a time when tall stone walls and ramparts were needed for protection from invading armies, lifestyles have changed haven't they? Fortunately, as you can see in these stuningly vivid castle pictures below, some have survived for decades and are standing today, a reminder of how life used to be.
Castle Caerlaverock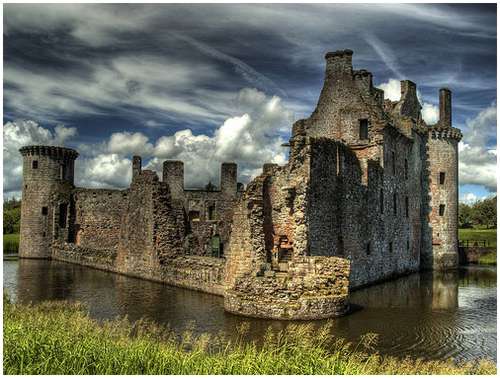 Caerlaverock Castle is a triangular moated castle dating back to the 13th century located south of Dumfries in the south west of Scotland. John de Maccuswell, deceased in 1241, was first Lord Maxwell of Caerlaverock and its proximity to the English border resulted in its being sieged several times, most notably by Edward I of England.
Interesting fact: Caerlaverock was defended vigorously though defeated. Upon surrendering it was found that only 60 men had kept the entire English army at bay for a prolonged period of time, a testament to its design.
Castle Dunluce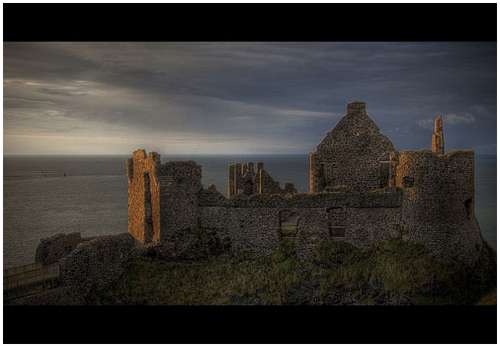 Dunluce Castle was first built in the 1200s by Richard de Burgh, the Earl of Ulsterand, and is a medieval castle located in County Antrim, Northern Ireland. Dunluce castle is only accessible via bridge from the mainland because it sits atop a bassalt outcropping with extremely steep sides, perfect for defence.
Interesting fact: In the 1600s the kitchen area, next to the cliff face, collapsed into the sea and it is rumored that only one small kitchenboy survived because he was sitting in the corner that didn't fall in.
Castle Babelsberg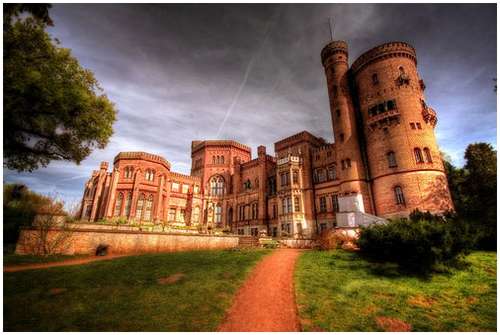 Babelsberg Castle, considered the main castle in Park Babelsberg but only one of several, is located in Germany and was originally built as a small summer palace for Prince William of Prussia circa 1800s. It later served as a paleontology museum from 1966 until the end of the Cold War. Today the location is part of the Potsdam World Heritage Site.
Interesting fact: It survived world war II without much damage only to fall into disrepair during the cold war era. It is being restored to it's 19th century glory.
Castle Beaumaris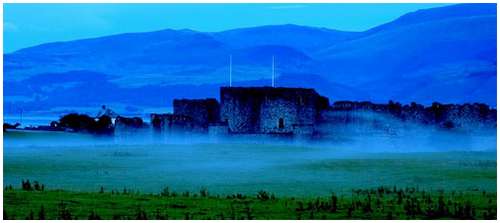 Beaumaris Castle was built in Beaumaris, on the island of Anglesey, begining in 1295 for King Edward I by Master James of St George however it was never finished. The castle was the last of several castles built in the area designed to defend the royal home. Its design is of the double wall concept where the outer walls house an inside building which is effectively a very defendable castle unto it's own. With 14 layers of defense Beaumaris Castle is considered near perfect.
Interesting fact: A "Gate-next-sea" protected a tidal dock that allowed ships to dock with the castle for re-supply.
Castle Eilean Donan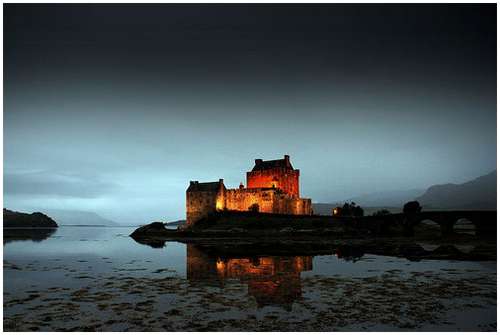 Eilean Donan Castle was built as a defence for Alexander II from attacks by the vikings in 1220. In 1719 the castle was destroyed by three royal navy frigates after the castle had fallen into spanish hands and was then re-built, 200 years later, by Lt. Col. John MacRae-Gilstrap.
Interesting fact: Eilean Donan castle has appeared in several movies including Highlander (1985), Loch Ness (1996) and Elizabeth: The Golden Age (2007).
Castle Mespelbrunn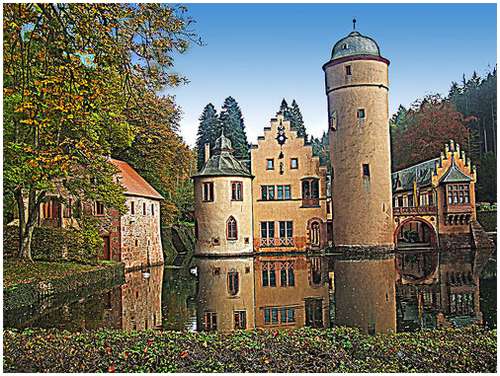 Mespelbrunn Castle was built between Frankfurt and Würzburg Germany in 1412 by Echter of Mespelbrunn. The castle is of medieval moated design with romanesque – renaissance style.
Interesting fact: Mespelbrunn Castle was one of the locations in the film The Spessart Inn – 1958, which is based on a fairy tale by Wilhelm Hauff.
Castle Heemstede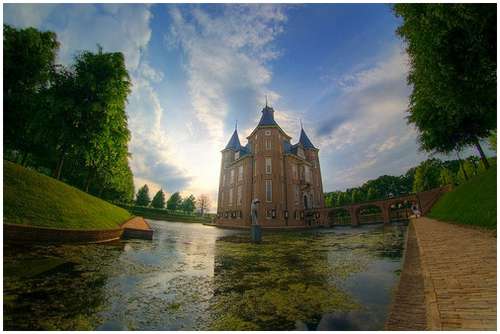 Heemstede castle was completed in 1286 on the spaarne river by Dirk van Hoylede in the province of North Holland, Netherlands. It has been built, burned down and rebuilt several times over the centuries and it was last torn down in 1810, after years of neglect. Today it is a restaurant. [image source: (Erik)]
Interesting fact: Families in the area often moved away during hot summer months to avoid canal fever from the putrid local canals.
Castle Werfen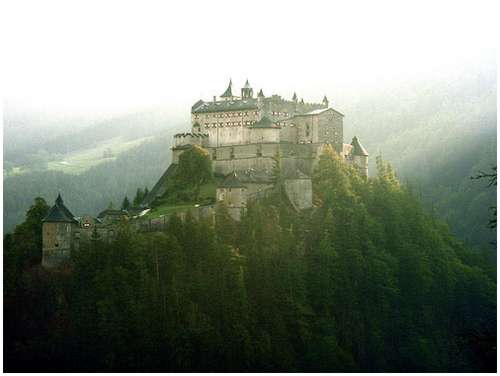 Werfen Castle, aka Hohenwerfen castle, was built near Salzburg Austria during the 11th century by wealthy archbishops in order to protect the city. Today you can tour this beautiful fortress in the Salzachtal and visit the weapons room museum and a renovated prince's room.
Interesting fact: The worlds largest glacial caves are nearby and also open to tourism but you'll have to brave the steepest cableway in Austria to reach them.
Edinburgh Castle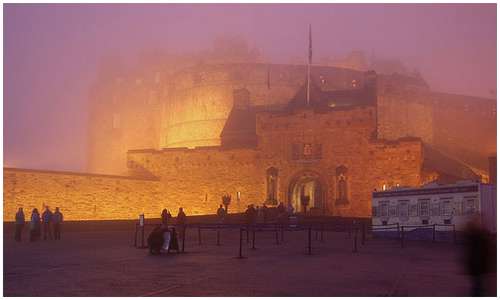 Castle Edinburgh dates back to the 9th century bc although nothing of it remains from that period. It is now Scotlands second most visited tourist attractions and it towers over the city of Edinburgh from it's location on Castle Rock mountain. The castle has seen a lot of military activity over the years and still houses a garrison of soldiers albeit mostly for ceremonial purposes.
Perhaps it's most notable change of hands occured in 1314 when Robert the Bruce hand picked 30 men to re-capture it from King Edward I of England by climbing the north precipice at night and catching it's defenders off guard. The re-take was successful but Robert the Bruce ordered it's defences immediately destroyed to prevent further capture.
Castle Matsumoto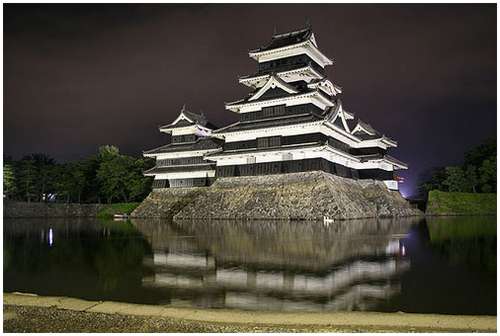 Matsumoto Castle, also known as Fukashi Castle, is located within the city of Matsumoto in Nagano Prefecture and can be dated back to the warring states period circa 1504. Matsumoto Castle is a short travel from Tokyo Japan and is sometimes called the 'crow castle' by tourists because of its dark color and wing-like roofline. I'm not up to speed on the extensive history of the area, I wish I was, but if you are please share your historical information in a comment below.
Interesting fact: In 1872 Matsumoto Castle was sold at auction which rendered it vulnerable to being dismantled but it was spared that fate and is now a National Treasure of Japan.