To having a romantic dine with your special one, candle is one of the most important item that you can not be missed on your dining table during the dine. Candles can also be served as the aroma in your room, house.
Creative candles are good as the decorative accessories for normal display at your house. They are excellent way to add an upscale and sumptuous atmosphere to you home without spending much money. Candles come in so many unique styles, shapes, scents and sizes, so they are perfect for every setting and occasion.
Below are wide variety of beautiful, creative and innovative candles can be found from the Internet. Some of them are distinctive design, colors and creativity. Candles could help you to show your emotions, love and feeling.
Multiple Candles in Chaotic Patterns
These is not necessary for the candle to burn from top to bottom. This model of candles were inspired by a model of modular structures, and it is the innovative alternative candle design balancing between order and chaos.
When a single flame starts the process, and slowly other will be ignited. This could take up to five hours of the candle to burn the whole candle plate.
source: here
Light Bulb Candle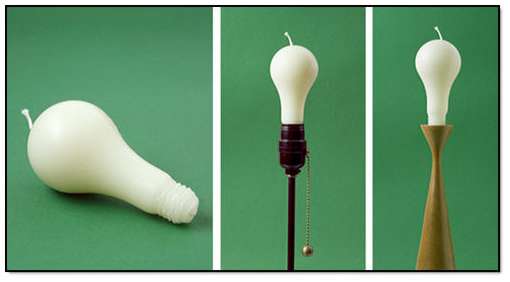 The great candle design that look exactly same as the light bulb. Every household should have on to add a touch of humor as well as illumination to blackouts and power outages.
This candle was handmade from Bee's Was in the New York State. It measures approximately 5 inches height and 2.5 inches diameter.
Rocklite Candle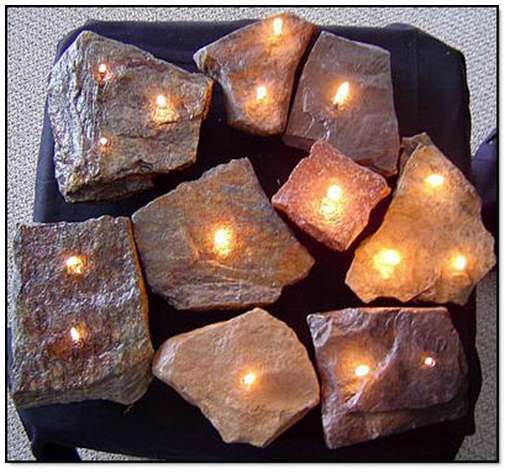 A phase "Don't be left in the dark. Buy a rock and see the Lite!". All of their rock candles are made out of hand select rock and stone from many countries. All of their rock candles burn candle oil through a permanent fiberglass wick.
Each rock/ stone is sealed to ensure durability and to prevent leakage
source: here
Building Brick Candles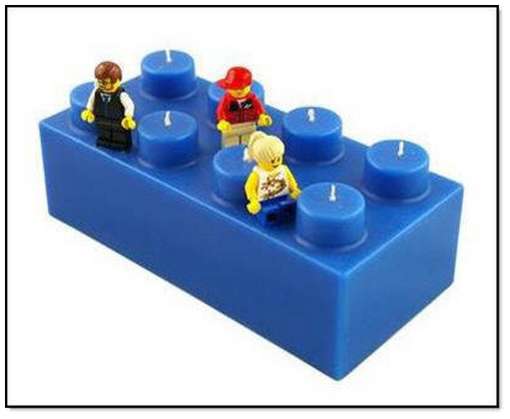 This is the eight-wick soy-blend and non-scented candles. They are hot complement to any room.
source: here
Candle-strip Candle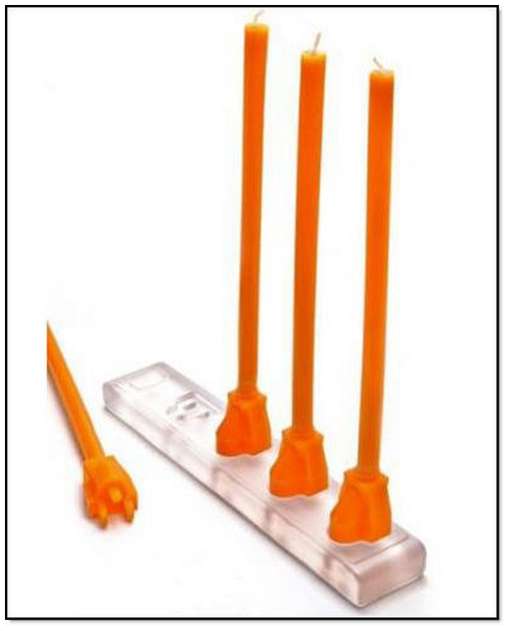 This will make you think twice about your energy usage.
Cappuccino Coffee Candle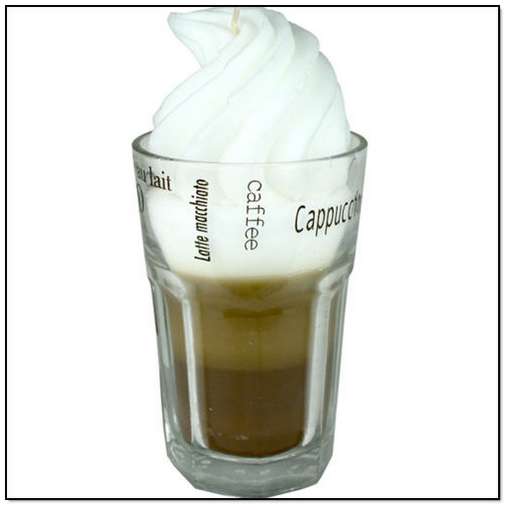 You could fill your rooms with the delightful fragrance of cappuccino from this scented candle. There are some neutral color tones and style of this coffee candle to fit in most rooms and add a modern twist for decoration too.
Fried Egg Candle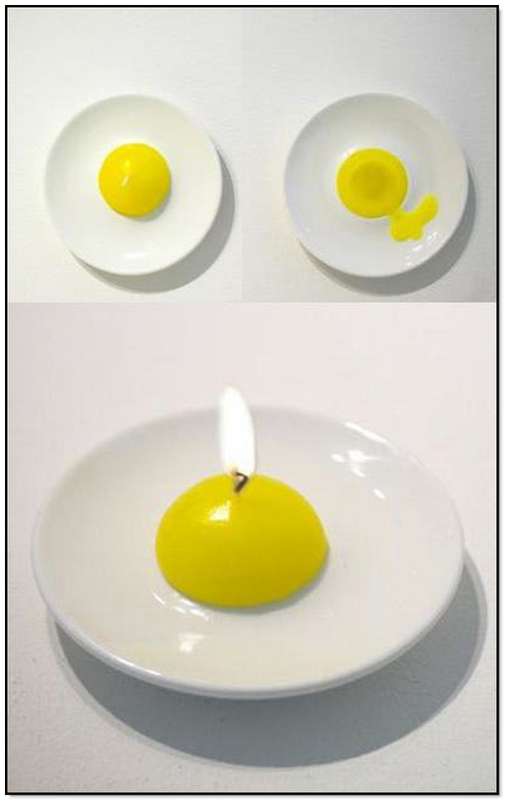 The candle design that looks like a fried egg.
Melt Candle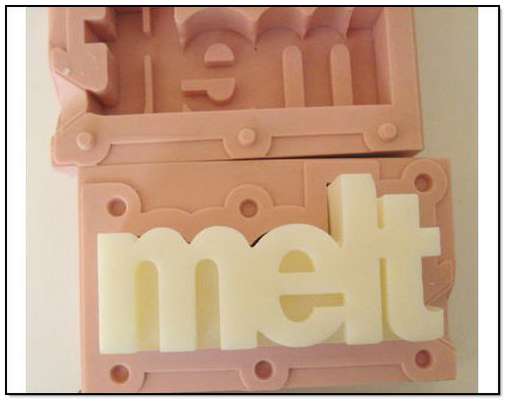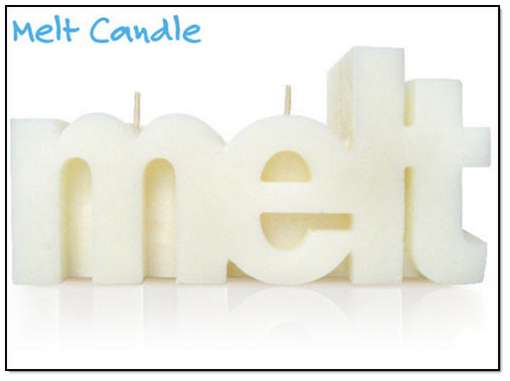 This Melt candles has its soot-free, honey scented beeswax. Your air quality will benefited from burning this naturally ionizing, cool candle.
This is 32 ounces Brazilian white beeswax with 3 cotton core wicks. It measures in 7 inches width and 3.5 inches height and 3 inches dimension.
source: here
Sushi Candle Set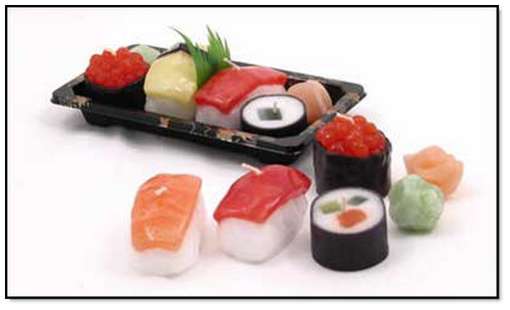 The four assorted pieces of sushi in this set, plus the Wasabi and pickled ginger. It is perfect to use it at your next Sushi gathering, or party. Each set of Sushi candle comes per-arranged in its own Japanese "take out" box.
Swiss Cheese Candle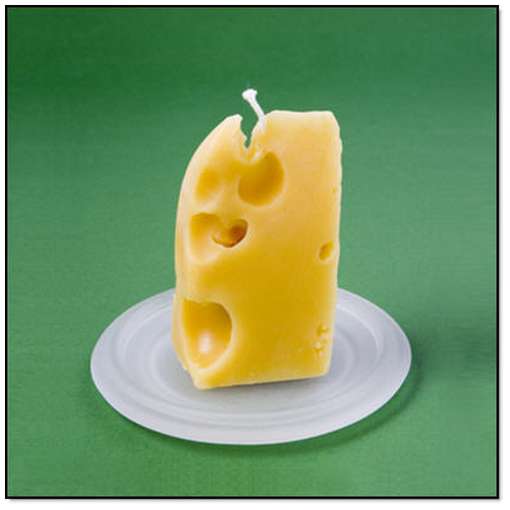 A delicious candle with the shape of the cheese.
sorce: here