This is one of "those" movies that were filmed and then stuck in post-production for a long time seeking for the ideal time for the premiere. The film was announced for 2017 and premiere was delayed from than to this fall. I hope that it will come to cinemas as they said this time, in October 2019.
The story follows three great visionaries from the world's history. Firstly, we meet Thomas Edison and his idea of bringing electricity to Manhattan, and then George Westinghouse and Nikola Tesla step in the story with even revolutionary ideas of electrifying the America. The current war begins and we follow the story about power, recognition, greed, and everything that goes with that…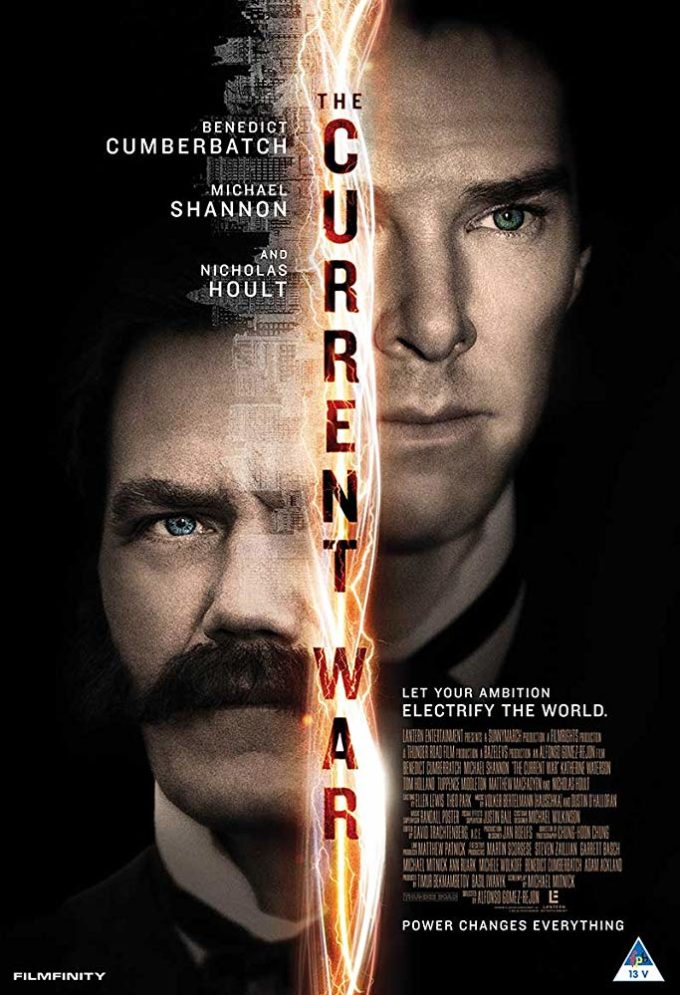 image by imdb.com
The movie is directed by Primetime Emmy nominee Alfonso Gomez-Rejon, well-known for his movie Me and Earl and the Dying Girl (2015) and directing 12 episodes of cult TV series American Horror Story (2011-2014). The movie The Current Was is written by Michael Mitnick, known for the movie The Giver (2014) and TV series Vinyl (2016).
Casting is impressive with names as Academy Award nominee Benedict Cumberbatch (The Imitation Game (2014), Star Trek Into Darkness (2013), Doctor Strange (2016)), and another Oscar nominee Michael Shannon (Midnight Special (2016), The Shape of Water (2017), Take Shelter (2011)), Tom Holland (Spider-Man movies, The Impossible (2012)), Nicholas Hoult (Mad Max: Fury Road (2015), About a Boy (2002), Warm Bodies (2013)), Katherine Waterston (Inherent Vice (2014), Fantastic Beasts and Where to Find Them (2016), Alien: Covenant (2017)) and others.
It is interesting that Michael Shannon wasn't the first choice for playing the role of George Westinghouse. It was actually Jake Gyllenhaal, but he was dropped out and Michael was brought as a replacement.
Take a look at the official trailer for The Current War:
The movie The Current War comes to the cinema this fall.
You can find more details about the movie at https://www.imdb.com/title/tt2140507