From the producers, Working Title Films (Darkest Hour (2017), Yesterday (2019)) and Shoebox Films (Locke (2013), Serenity (2019)) come the new biography movie named Radioactive, about one of the most important female scientists ever, Marie Curie. Oscar nominee Rosamund Pike has taken the responsibility of taking the role of this intelligent woman.
The story follows the life of the Curie couple, Marie and Pierre, their passionate, romantic relationship, scientific discoveries and struggles to be recognized… As radioactivity isn't too friendly discovery, the story continues with consequences that followed after that…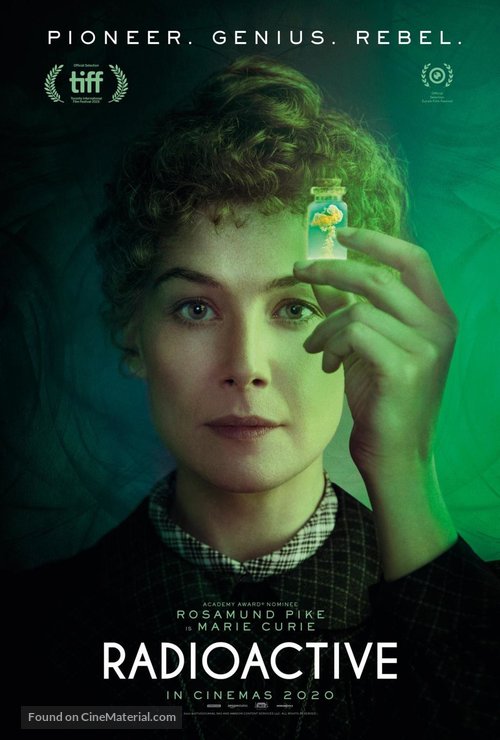 image by cinematerial.com
The director of the movie is talented Academy Award nominee Marjane Satrapi, well-known for some great, but not so popular movies like Persepolis (2007), Chicken with Plums (2011) or The Voices (2014), with Ryan Reynolds in the main role. The writer of the movie is Jack Thorne (National Treasure (2016), Wonder (2017)) by the graphic novel by Lauren Redniss.
In the main roles are Academy Award nominee Rosamund Pike (Gone Girl (2014), Die Another Day (2002), Pride & Prejudice (2005)), Anya Taylor-Joy (The Witch (2015), Morgan (2016), Split (2016)), Sam Riley (Control (2007), Maleficent (2014), Pride and Prejudice and Zombies (2016)), Aneurin Barnard (Dunkirk (2017), The Goldfinch (2019), TV Series Cilla (2014)), Simon Russell Beale (The Death of Stalin (2017), Into the Woods (2014), TV Series A Dance to the Music of Time (1997)) and others.
Take a look at the official trailer for Radioactive movie:
The movie Radioactive will come to the cinema next year.
You can find more details about the film at https://www.imdb.com/title/tt6017756