It's a really extraordinary accomplishment when from an ordinary, everyday topic, people create an awesome story and even better movie. One of the films like that is the Marriage Story, which shows how difficult is the life of everyone after the marriage breaking.
Nicole and Charlie were called a too many times as a perfect couple… But life sometimes brings not too good things… They started to struggle to keep their marriage, but without any success, until the point that the divorce was the only solution. But, that produced even more problems with all members of the family involved…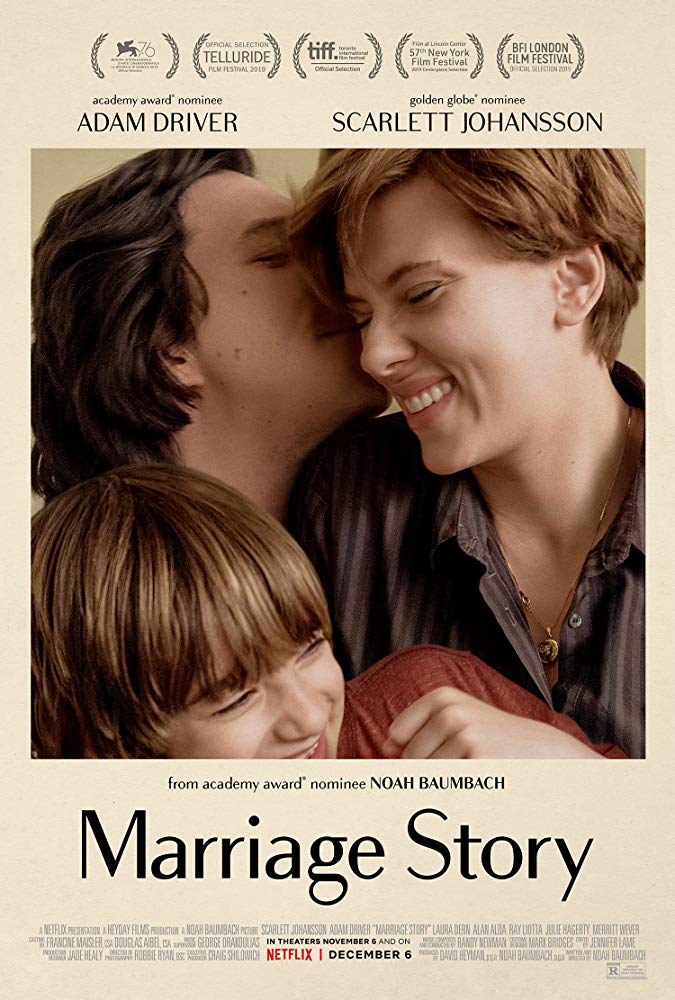 image by imdb.com
The movie is directed and written by Academy Award nominee Noah Baumbach, a well-known by movies like The Squid and the Whale (2005), Frances Ha (2012) or Greenberg from 2010 with Ben Stiller in the main role.
In the main roles are four times Golden Globe nominee Scarlett Johansson (Her (2013), Lost in Translation (2003), The Avengers (2012)), Academy Award nominee Adam Driver (Paterson (2016), Inside Llewyn Davis (2013), BlacKkKlansman (2018)), two times Oscar nominee Laura Dern (Jurassic Park (1993), Wild (2014), Blue Velvet (1986)), another Oscar nominee Alan Alda (TV Series M*A*S*H (1972-1983), The Four Seasons (1981), Crimes and Misdemeanors (1989)), Golden Globe nominee Ray Liotta (Goodfellas (1990), Narc (2002), Revolver (2005)), double Primetime Emmy winner Merritt Wever (Signs (2002), Michael Clayton (2007), Birdman or (The Unexpected Virtue of Ignorance) (2014)) and others.
Take a look at the official trailer for the movie Marriage Story:
The movie Marriage Story will come to the theaters on November 6, and on Netflix on December 6.
Movie URL: https://www.themoviedb.org/movie/492188-marriage-story
Critic: AAA