Paramount Pictures has prepared new great comedy for us with three great female actresses, Rose Byrne, Tiffany Haddish and Salma Hayek. The film is named Like a Boss and it will be premiered in January next year. The story is situated in the present time following two average women, trying to build their business from the ground. Lots of great fun in the movie is waiting for us, so buy a bag of popcorn and enjoy!
Two best friends Mia and Mel decide to start their own cosmetic company. One of them is practical, the other one wants to live like a celebrity, but neither of two has a clue about finances. So, they almost ruined their company until they receive help from a mighty woman from the cosmetic industry to "save" them… Or not…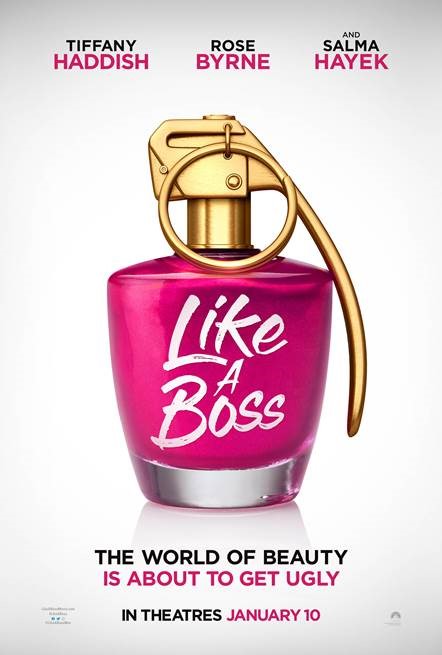 image by imdb.com
The director of the movie is Miguel Arteta, known for movies as Alexander and the Terrible, Horrible, No Good, Very Bad Day (2014) with Steve Carell in the main role, or The Good Girl (2002) and Youth in Revolt (2009). Writers of the movie are Adam Cole-Kelly and Sam Pitman.
In the main roles are Primetime Emmy winner Tiffany Haddish (Girls Trip (2017), Keanu (2016), Meet the Spartans (2008)), Golden Globe nominee Rose Byrne (Spy (2015), Insidious (2010), Bridesmaids (2011)), Academy Award nominee Salma Hayek (Frida (2002), Desperado (1995), Wild Wild West (1999)), Jennifer Coolidge (A Cinderella Story (2004), A Mighty Wind (2003), American Pie (1999)), Ari Graynor (Nick and Norah's Infinite Playlist (2008), Whip It (2009), What's Your Number? (2011)) and others.
Take a look at the official trailer for Like a Boss movie:
The movie Like a Boss will come to the cinema on January 10th.
You can find more details about the film at https://www.imdb.com/title/tt7545266/