From 4-times Academy Award nominee producer Ridley Scott (The Martian (2015), Blade Runner (1982), Gladiator (2000)) and Netflix, comes the new movie named Earthquake Bird, a crime/drama with elements of mystery… Based on an acclaimed novel by Susanna Jones. You can watch it next month on Netflix or in selected theaters.
Lucy is a young woman who came to live in Japan and fall in love with a handsome photographer… After a while, she introduces her friend Lily with her boyfriend, and that grows into a love triangle… Lily ends up missing (suspected dead) and Lucy becomes the prime suspect…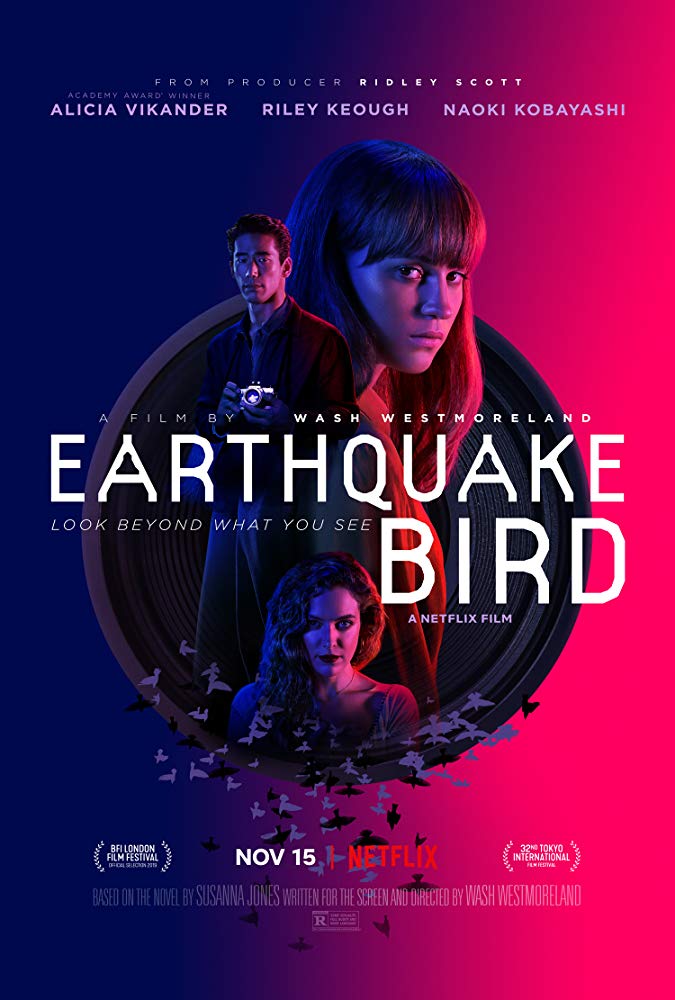 image by imdb.com
The movie is directed by Wash Westmoreland, a well-known director by movies Still Alice (2014), The Last of Robin Hood (2013) or Colette from last year with Keira Knightley in the main role. Wash is also the writer of the screenplay and it is written by the novel of Susanna Jones.
In the main roles are Academy Award winner Alicia Vikander (Ex Machina (2014), The Danish Girl (2015), The Man from U.N.C.L.E. (2015)), Golden Globe nominee Riley Keough (Mad Max: Fury Road (2015), American Honey (2016), It Comes at Night (2017)), Naoki Kobayashi (Tatara Samurai (2016), High & Low: The Movie 3 – Final Mission (2017)), Jack Huston (Kill Your Darlings (2013), Ben-Hur (2016), American Hustle (2013)), Kiki Sukezane (TV Series Heroes Reborn (2015-2016), Lost in Space (2018), Westworld (2018)) and others.
Take a look at the official trailer for the movie Earthquake Bird:
The movie Earthquake Bird will come to Netflix and select theaters on November 15.
Movie URL: https://www.themoviedb.org/movie/513409-the-earthquake-bird
Critic: AAA