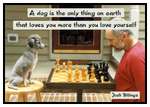 A dog is the only thing on earth that loves you more than you love yourself (Josh Billings)
Read more...
Artist Jennifer Crupi makes wearable interactive sculptures that encourage the wearer to hold a specific pose or gesture. Some sculptures are jewelry-like, such as the sterling silver "Ornamental Hands" which creates a dancer's hand gesture. Crupi has also made gestural furniture—the "Empathy Table" fits on the laps of two people and has indentations that invite the participants to regard one another thoughtfully. Crupi's sculptures are intended to highlight the role of body language in communication.
Read more...
China is the biggest toy exporter in the world - nearly 75% of all the world's toys are made in the country – but the retail price of one high-quality toy in the western market is often more than six months' salary for a Chinese toy factory worker. In order to depict the drudgery of mass toy production, photographer Michael Wolf made a large-scale installation where he attached 20,000 used plastic toys all made in China surrounding large sized photos of the workers who make them. Wolf called the project "The Real Toy Story". The work portrays the human presence behind mass-produced goods and provides viewers with a visceral, immersive experience that evokes the sensation of density endemic to urban areas of the region.
Read more...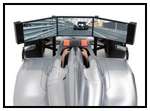 As much as I like the Formula 1 racing simulator, it's not everyone because it'll cost you more than a brand new Porsche 911 Carrera or many other high end cars.  The simulator is priced at £90,000 or about $144,000 at today's exchange rate but that does include tax, delivery, set up, and a training session.

With the price out of the way and if you're still reading, the simulator does come with some cool stuff like real Pirreli F1 slick tires and Brembo or AP Racing calipers.  The body is made out of carbon fiber and composites and comes with realistic aero packages including front and rear wings, side-pod mounted winglets, and a rear diffuser.  The cockpit comes with a quick release steering wheel designed to look like a genuine F1 wheel with paddle shifters.
Read more...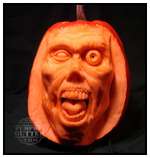 In the spirit of Halloween this week's feature is all about sculpture, that is, sculptures made by carving pumpkins! Scott Cummins from Perryton Texas is one of the best, he enjoys sculpting into the rind of the pumpkin for a three-dimensional effect. I hope you enjoy these as much as I did.

Are you ready for Halloween?
Read more...
<<

Start

<

Prev

1

2 3 4 5 6 7 8 9 10 Next > End >>


Page 1 of 29